Well I got my new keyboard and mouse to replace the very poor Bluetooth MX5000 Laser combo I had before and I'm pleased to say that the first 30 minutes of using it have been an absolute pleasure!
[adsense:468x60:4496506397]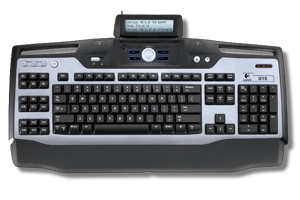 My first thought of this keyboard when I opened the box was "Frick that's big!". Using it right now, I feel very in-control - feels like a command control panel on a space ship. Its nice!
I plugged it in and windows instantly recognised it (without even installing a driver). This MIGHT be because I'd left the Set Point 3.1 drivers on from the MX5000, but in any case, installation was easy!
Installing the driver I found on the Logitech Site was easy (the one on the CD was a couple of revisions (not versions) out of date). It even found my Battlefield 2 install for me. Seems this keyboard has the option for configuring it differently for different games! Should be cool to play with…
[adsense:160x600:6965419571]
As the day draws to an end my room gets darker and the blue glowing keys become very visible. This should make those late night coding sessions much easier! No more hunting down keys in the dark…
Pro's

Good quality keyboard - feels strong and well made
Nice to type on (in my opinion) - very smooth key presses - but "clunky" at the same time.
Backlit keys - good for night programming/gaming
USB Hub - although not powered itself, the keyboard has 2 USB sockets on it. Not sure how much use these will be as the hub is powered from the USB socket (not externally). I tried pluggin in my K800i phone and was informed there was not enough power.
Backlit Screen - The MX5000's screen is not backlit which makes it very difficult to see in dark situations. The screen on the G15 is also programmable so games can make use of it as well as people who are skilled enough to program it themselves!
So much more - its a fantastic keyboad!

Con's

Backlit keys are hard to see in some conditions. I dont mean the blue light, I mean the WRITING on the key.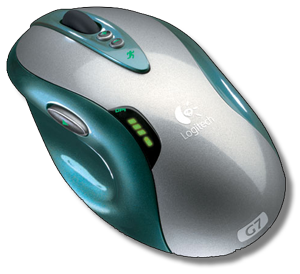 Bearing in mind I already had the Set Point 3.1 driver installed from the MX5000, the mouse was even easier to install! Firstly I plugged in the base unit which is a small box with an approximate 6cm squared footprint. This is also the charger unit for the "other" battery. You load/unload the batteries by slotting them in the front (there is a small eject button on it).
There is also a USB socket in the top of it. As I understand it, this is a general purpose USB socket, but its intended for the USB wireless dongle. In it went and away Widnows went installing it. A few seconds later I could move the mouse. Easy!
[adsense:468x60:4496506397]
Another thing that is easy is the mouse movement on the pad! Its almost frictionless. This should make precision sniping and details image editing easier. The mouse itself is pretty comfortable to use, although its possibly a little long for my small hands (but I suppose this does stop my wrist dragging on the mousemat!).
I'm not going to do a Pro's and Con's list as above - mainly because I dont think there are any con's to this mouse (yet)! Its comfortable, easy to install and easy to use.
Well this is where it falls down a little… Neither of these two are cheap peripherals. Obviously the price varies based on where you get it and when you get it (inevitably it will be cheaper next month, and again the month after).
I did about 20 minutes shopping around and ended up finding that the cheapest place was one of my two favourite places - Scan.co.uk and Aria.co.uk
I ended up using Aria (they were about £0.20 more expensive overall (including tax and P&P)) - however they also do loyalty points.
This was the cost including VAT at 17.5% (purchased on Sunday 19th November 2006):
[adsense:468x60:4496506397]